I wanted to introduce you to a mattress that I have recently learned about, the DreamCloud Luxury Hybrid Mattress.  One of the first things that stood out to me is that there is a risk free trial.  Of course who doesn't love a risk free trial?  You don't like it, you can return it.  Most risk free trials are maybe a month, or 90 days, but DreamCloud offers a 365 day risk free trial!  So that in itself tells me that this company really believes in it's product.  Imagine trying something out for a year and being able to return it if it didn't meet your satisfaction!
One important aspect of sleep that I don't always talk about is comfort.  If you are not comfortable, you will probably not be sleeping well.  And of course your mattress is a big source of comfort (or discomfort).  So if you are having trouble getting comfortable at night, and are waking up tired or stiff, you may need a new mattress.  According to the National Sleep Foundation, mattresses last around 8 years.  If you've had one longer than that, or notice signs of worn or sagging spots in the middle or at the edges, it may be time to look into getting a new mattress.
About the DreamCloud Mattress
DreamCloud is a luxury hybrid mattress combining the best latex, memory foams, tufting and coil technologies throughout 8 hand constructed layers, to provide the best sleep money can buy. DreamCloud uses cutting-edge technology and premium materials to create the best support for your spine.
One of DreamCloud's secrets is a true double hand-tufted Cashmere Cover, since the combination of tufting and compression creates unparalleled support and uniformity to DreamCloud's plush comfort and feel. Hand tufted mattresses have much less sagging, wear and tear, and provide longer lasting comfort. Tufted mattresses retain their shape better because the fillings are tightly compressed, which is especially important with a multi-layered hybrid.
If you buy a DreamCloud Mattress, you buy direct from the manufacturer so there is no middleman to raise the price.
What Customers Say
A TRULY RESTFUL EXPERIENCE
"I got the DreamCloud because I was waking up so tired in the morning and I wanted to change that. DreamCloud did exactly that, restoring my faith in mattresses by having a truly restful experience from start to finish. The base is strong and supportive, and the cover on top felt like a soft and snug friend that I never knew I needed. It was such a warm and inviting experience that I couldn't believe how well made and hearty the DreamCloud was. If you're looking for a restorative mattress experience that will leave you sighing in relief, this is the one for you. It definitely was the one for me."
— Kimmie N
PLUSH AND LUXURIOUS
"DreamCloud has actually made me thirsty for sleep. I can't wait to spend time on it at night. Maybe because it's so plush and luxurious, but I honestly have never had a better sleep. I can't believe how lucky I feel over getting one. I have started telling all my friends about it. It's a cozy experience that you just have to feel for yourself to believe. I was also so psyched about their trial policy, but I have to say that I'm not worried at all. DreamCloud is a beautiful sleeping experience, thanks to the supple support of the cashmere cover. Thank you so much!"
— Cat R.
So check them out and let me know what you think!  Do you already have a DreamCloud Mattress?  I'd love to hear what your thoughts are as well.  And if you want more adult sleep tips, check out Adults Need Sleep Too!
UPDATE FOR THE SUMMER – Now you can save $200 on any size mattress!!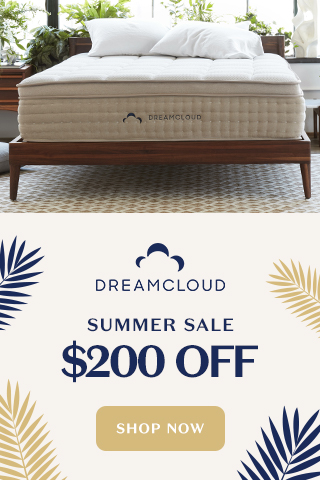 Please note that this post contains affiliate links which means I may receive a portion of your purchase price.